What We Offer:
---
PWA offers comprehensive financial advising, including consultation, planning, asset management, decision support, and tax preparation. As part of each offering, we include all components of our PRETIRE1 program. The table below summarizes how each component is used in each of our service offerings. For more details on a particular offering, click on the Column Heading that refers to it. For information about the components of the PRETIRE program, click the Row Heading that pertains to that component. You may also use the menu above to navigate through all components and offerings.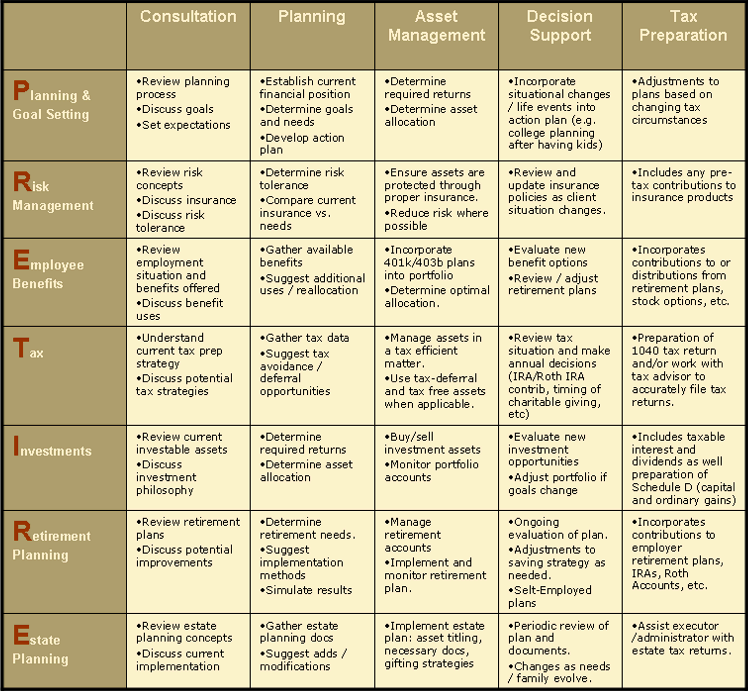 While some of the offerings can be structured in a way that makes them available on an a la carte basis, they are intended to function as your comprehensive financial solution. Pricing for each offering is shown in the table below.

In addition to the offerings listed above, PWA and its representatives sometimes engage in business consulting for advising clients. We also take part in professional education and speaking engagements designed to enhance the knowledge of financial advising practitioners as well as the general public. Please contact us at (404)-380-1977 or via email if you're interested in any of these additional services.
---
Back to Home
---
1PRETIRE is an acronym that refers to Pretirement, a PWA-created term defining the stage of life where your current and future needs are securely fulfilled and you're financially free to focus on achieving your wants and enjoying life.